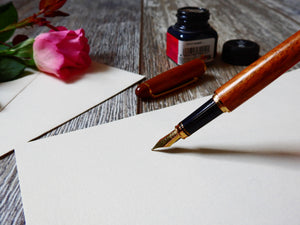 Your passion, our words.
Do you have a special someone for whom you'd love to be able to express the depths of your feelings? Sweep them off their feet with our custom love note from the heart. Or, indulge in this unique gift for yourself.
Answer a few brief questions, and we will craft a custom love note - the way only Ravenwolf can - written in calligraphy on parchment paper.  (Hard copy is available in the contiguous U.S. only. Available for email delivery everywhere else.) 
For an extra wow factor, inquire about our love note subscription service offered monthly or quarterly - email ravenwolf@houseofravenwolf.com.
Please Note:
Available in hard copy the contiguous United States only
Available via email everywhere else
Delivery of your custom order is available within 5-10 days.
Anniversary or special occasion right around the corner?  We also offer rush delivery within 72 hours for an extra fee. Inquire at ravenwolf@houseofravenwolf.com