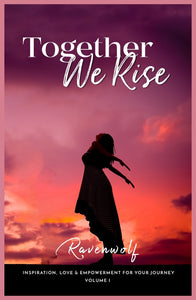 The first book of the Ravenwolf's new Believe series, Together We Rise features the stories that will inspire, move and empower you to live your best life.

No matter where you might be in your life journey, you will find that the words undeniably relate to where you've been and where you're going ...
The inspiration to help you finally start to believe.
Product Details:
Once your purchase is complete, you will be emailed a link to download the eBook into your eReader
EPUB files can be used on e-readers such as Kindle apps, Google Play Books (on Android) and Apple iBooks on iOS and macOS 
292 pages